East-West
East-West Passenger Rail Service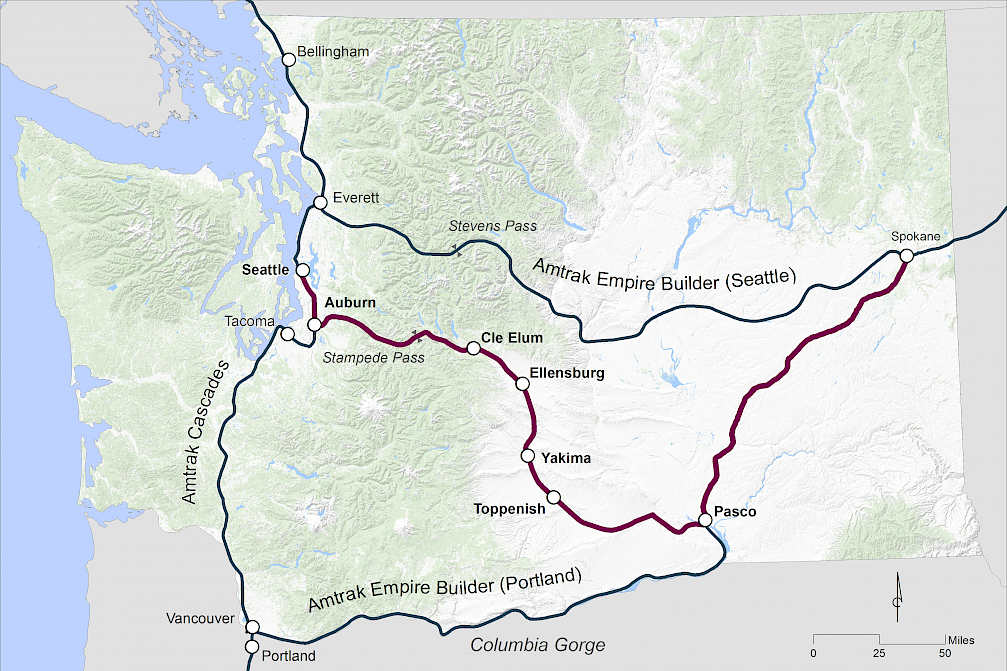 A map of the proposed passenger rail service along the Stampede Pass line, recently studied by the Washington State Joint Transporation Committee.
East-West Passenger Rail: Giving Central and Eastern Washingtonians Their Fair Share
All Aboard Washington supports the restoration of daytime passenger train service between Seattle and Spokane via Stampede Pass. East-West trains serving the Yakima and Kittitas Valleys would improve public transportation access, safety, and convenience for residents and visitors alike.
Frequently Asked Questions
Read our East-West FAQ.
How You Can Make It Happen
Here's what we need to do in 2021 to help move East-West passenger rail service forward:
Have your city or county sign a resolution of support. You can use this for your own city/county.
Ask your state legislators to support an economic impact analysis of East-West passenger rail service.
Ask your congresspeople to support the creation of a Northwest Rail Commission, like the Southern Rail Commission serving the Southeast US.
Talk with your county officials about creating a new county rail district or applying for state matching funds from an existing one.
Existing East-West Service
The Empire Builder: Trains 7 and 8, Seattle - Spokane via Stevens Pass
The Empire Builder: Trains 27 and 28, Portland - Vancouver (WA) - Spokane via Columbia River route
Studies
Potential Funding Sources
Public Support or Public/Private Partnership
The 2019-20 Feasibility Study identified three potential models for funding:
Public Outsourcing

Contracts operation to Amtrak
Similar to State Supported services across the United States including the Cascades
Assets including rolling stock, stations, etc. funded and owned by Washington

Private Outsourcing

Contracts to a third-party/private operator
Alternative procurement approaches available including the possibility of a public-private partnership

State Operated

State establishes an internal company to design, deliver and operate (significant step-up)
Sub-options where WSDOT has more control over certain activities (akin to California)
Regional Rail Commission
Federally-chartered regional rail commissions make it easier for multiple states to work together and become competitive applicants for federal rail project funding. With strong interest in intercity passenger rail services in Oregon and Idaho, Washington would stand to benefit from cooperating with these states in a Northwest Rail Commission. The first step to making this a reality is in creating enabling legislation for a regional rail commission at the state level. Once Washington has expressed its support for joining the Northwest Rail Commission, we can move forward with further steps to start working better together.
County Rail Districts
County Rail Districts (CRDs) allow counties not currently part of a port district to receive state matching funds from sales taxes. Read more about why we need CRDs and what you can do to make them a reality.
Local Support
Communities receive significant benefits from hosting passenger rail service. Many have matched other sources to market the service, and to build and maintain train stations in their communities.
Communities With Locally-Supported Train Stations
These communities serve as great examples of train stations that were funded and created with significant local support:
Central Washington Passenger Rail Summit
Recording from July 11, 2020, event