Press
Press and Media Coverage
See also AAWA's Community Presentations
July 13, 2023
KTGA Bigfoot 99 Radio: Discover Carbon County Sponsors Passenger Train Meeting
AAWA's work on the Stampede Pass line gets a mention on radio in Wyoming.
July 4, 2023
Tri-City Herald: Wouldn't it be great if Tri-Citians could take a train directly to Seattle and back?
"All Aboard Washington (AAWA)… has proposed restoring passenger rail between Pasco and Seattle through Yakima and Ellensburg. A study, "Feasibility of an East-West Intercity Passenger Rail System for Washington State," showed that passenger rail service between Seattle, Auburn, Cle Elum, Ellensburg, Yakima, Toppenish, Pasco, and Spokane is technically and financially viable.… Shouldn't some of that money be used to restore passenger rail service from Pasco to Seattle through the Valley? Our Badger Club forum speakers will be Charles Hamilton, [co-executive director] of All Aboard Washington, and Jason Biggs, program manager of Capital and Operations for the Washington Department of Transportation's Rail, Freight, and Ports Division.
The hour-long forum will begin at noon and be held on Zoom, and attendees can attend a half-hour open mic "Table Talk" session immediately afterward. Club members attend free, while non-members pay $5. Register at www.columbiabasinbadgers.com."
June 20, 2023
Seattle Times: Amtrak's Seattle maintenance-base plans would take over a Sodo street
"The passenger-advocacy group All Aboard Washington supports a Holgate closure, because less accident risk means more reliable service when trains arrive from Portland. "You're only a few minutes from King Street Station. You feel like you're almost there. They get on the PA and say, 'We're stopping.' There's traffic, or a truck that has blocked the intersection. That happens," said Charlie Hamilton, co-executive director."
April 19, 2023
​​​​​​​Hells Canyon Journal: "Grassroots Group Works To Reinstate Eastern Oregon Passenger Rail Service"
March 15, 2023
Real Change News: "#Washington state could be squandering a unique opportunity to invest in expanded passenger #rail service with federal funds that were authorized in the 2021 bipartisan infrastructure act, transportation advocates say."
March 6, 2023
KIMA TV: Advocates say a new federal study could bring a passenger train route back through Yakima
March 4, 2023
Yakima Herald: Advocates hope federal passenger rail study will include Yakima Valley
July 10, 2022
Seattle Times: "Gary Wirt, vice president of the advocacy group All Aboard Washington, says a ruling in favor of the freight companies could kill passenger rail for good — including here in the Pacific Northwest."
February 16, 2022
AAWA Discusses Rail Funding on KING5 TV
January 18, 2022
Fast Company: AAWA's Charles Hamilton on why the Pioneer and North Coast Hiawatha lines should be revived
December 23, 2021
Elkhorn Media Group: Rail advocates discuss return to passenger service
December 3, 2021
Cheney Free Press: "All Aboard Washington will host an online meeting Saturday, Dec. 11, to review actions being planned for next year in the organization's effort to return passenger train service to several Eastern Washington cities."
November 18, 2021
AAWA member David Rowe offers rail alternatives for crossing the Columbia River
November 18, 2021
AAWA's Charlie Hamilton expresses confidence in the new bypass route on KIRO TV
November 18, 2021
AAWA's Lloyd Flem remembers Jim and Zack on KING TV
November 18, 2021
"Rail advocates argue new lines will grow the economy, shrink mobility inequalities and help decarbonize the region" AAWA's Hamilton interviewed
November 16, 2021
"Yakima could see highway, airport and rail funding as a result of infrastructure bill"
November 11, 2021
AAWA's Charles Hamilton weighs in on "What the infrastructure bill might do for rail transportation in Washington and Idaho" in the Spokane Spokesman-Review.
September 27, 2021
All Aboard Washington's Patrick Carnahan speaks about rail safety on KHQ Spokane.
September 9, 2021
Ritzville Journal: "To Cheney and Ritzville, a new rail system implies increased connectivity to traditionally bypassed towns, and a much-needed economic boost."
August 31, 2021
The Urbanist: "All Aboard Washington Releases New Passenger Rail Vision Map"
August 26, 2021
2021 Train Trek: Cheney
August 20, 2021
2021 Train Trek: Ellensburg and Cle Elum
August 19, 2021
2021 Train Trek: Spokane and Cheney
August 18, 2021
Pacific Northwest Rail Forum
August 10, 2021
2021 Train Trek: Tri-Cities
August 6, 2021
2021 Train Trek: Clarkston-Lewiston
August 3, 2021
AAWA is front-page news in Ritzville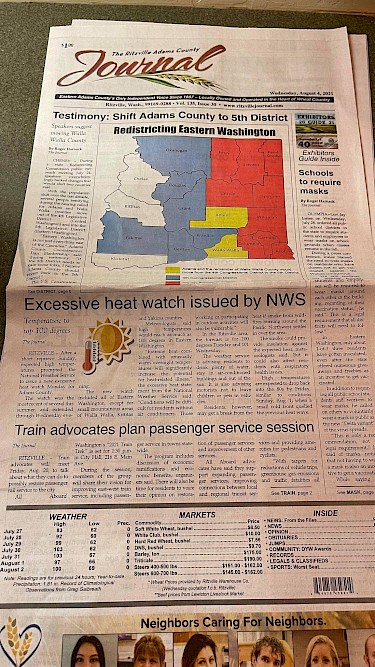 August 3, 2021
2021 Train Trek: Edmonds
August 2, 2021
2021 Train Trek: Walla Walla
August 2, 2021
2021 Train Trek: Toppenish
July 31, 2021
2021 Train Trek: Yakima
July 30, 2021
2021 Train Trek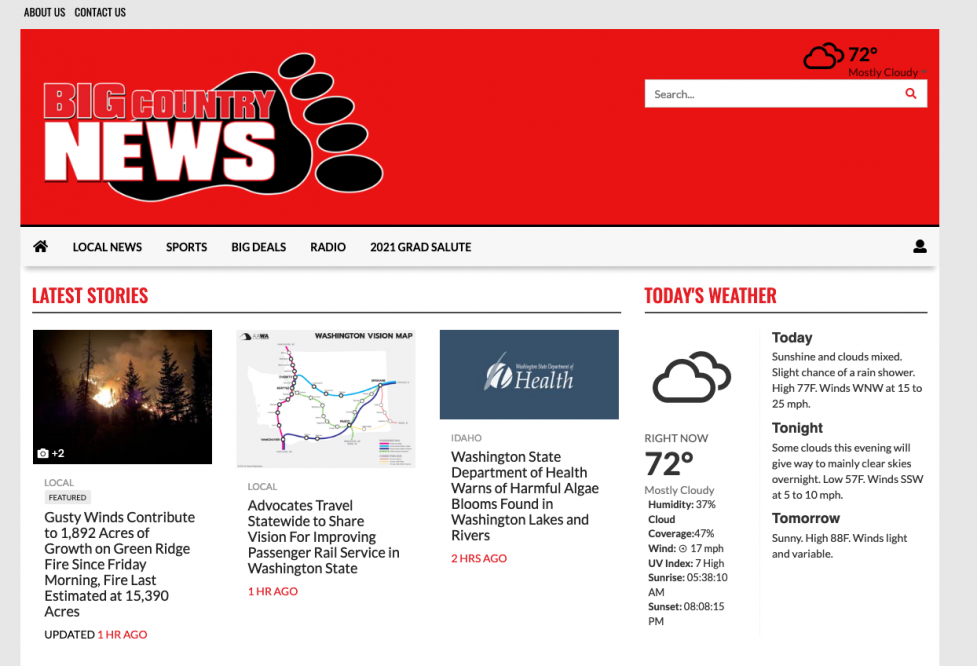 July 30, 2021
2021 Train Trek Levenworth
July 30, 2021
2021 Train Trek Wenatchee
July 21, 2021
TVW: AAWA Presentation to Washington State Transportation Commission
June 7, 2021
AAWA's Patrick Carnahan's article on "Reviving a Rail Revolution: How Washington Can Get Back On Track"
May 26, 2021
Spokane Spokesman-Review: Amtrak loses money on long-distance routes like the Empire Builder, but passengers say they offer a service worth investing in (PDF)
'Harvey Bowen, the Rail Passengers Association's Washington state representative, said adding trips on shorter-distance routes could help fix some of the shortcomings of Amtrak's long-distance routes.
'"One of the major existing problems with the Empire Builder, and indeed many existing routes, is that it serves certain cities in the middle of the night, such as Spokane," Bowen wrote in an email.
'"There also is not enough equipment so the train is often sold out," he added. "Due to being chronically sold out, ticket prices rise and is a problem for equity with people who have limited financial resources to travel."
'Investing in more frequent trips on shorter routes could also make train travel more popular as it becomes more convenient, said Charlie Hamilton, co-executive director of the rail travel advocacy group All Aboard Washington.
'"One train a day is fine as a starting point, but it needs to be multiple (trains) in order to be successful," he said. "If you look at California, the fact that they have been so successful is very much related to the fact that they run very frequently."'
https://www.spokesman.com/stories/2021/may/26/amtrak-loses-money-on-long-distance-routes-like-th/
Orion Donovan-Smith's reporting for The Spokesman-Review is funded in part by Report for America and by members of the Spokane community. This story can be republished by other organizations for free under a Creative Commons license.

April 22, 2021
The Urbanist says "Passenger rail advocacy group All Aboard Washington has suggested restoring Cascades' northern service to Bellingham and even Blaine despite the border closure."
April 13, 2021
AAWA's Patrick Carnahan talks about transportation equity for all parts of the state on KHQ television, Spokane (around 6 minutes into the episode).
March 11, 2021
The Urbanist posts about AAWA's presentation to the WA House Transportation Committee
March 10, 2021
Spokane Spokesman-Review: "Pandemic relief bill would restore daily Empire Builder train service — and advocates push for more"
February 16, 2021
Sierra Club Washington: "How passenger rail is integral to our environmental goals and can help fight climate change"
January 17, 2021
KIRO 7 TV: "Amtrak testing trains at Point Defiance Bypass for first time since deadly 2017 derailment"
November 9, 2020
"Daily passenger rail service ends in Spokane; can it come back?"
July 27, 2020
"Group to push new passenger rail from Spokane even as study finds significant obstacles"
July 10, 2020
"State receives King County to Spokane rail study"
July 8, 2020
Publicity for the Central Washington Passenger Rail Summit
June 26, 2020
The Rail Passengers Association's weekly Hotline covers AAWA's response to the East-West study in "Even A Flawed Study Shows Washington's East-West Rail Proposal Holds Promise"
June 26, 2020
The Urbanist posts AAWA's reaction to the East-West study: "AAWA: All Aboard Washington Responds to East-West Passenger Rail Study"
June 25, 2020
The Urbanist: "Study Finds Limited New East-West Washington Passenger Rail Line Could Generate Substantial Ridership"
June 23, 2020
"Study estimates high costs, low ridership if Washington state boosted east-west train service"'
June 17, 2020
AAWA quoted on KLCC Radio: "Amtrak Cuts Would Reduce Service On Two Oregon Trains"
March 5, 2020
Northern Kittitas County Tribune: "Attend the March 14 Summit"
February 29, 2020
Yakima Herald-Republic: "Restore passenger rail service to Central Washington"
January 24, 2020
Trains Magazine reports on AAWA's efforts to re-start service on the Point Defiance Bypass
December 20, 2019
Seattle Weekly covers AAWA's work to expand east-west service in "Catch a train: WA considers an Auburn to Spokane rail line"
December 23, 2019
"Plans to beef up Amtrak Cascades service in 2020 beset by multiple uncertainties"
October 28, 2019
AAWA assists AORTA with Eastern Oregon rail summit
August 25, 2019
Yakima Herald: "Editorial: Want passenger rail in the Yakima Valley? Here's a chance to say so"
July 18, 2019
All Aboard Washington's meeting in Blaine has generated media coverage from both sides of the border.
June 6, 2019
Coverage of proposed east-west rail service via Stampede Pass
May 24, 2019
Yakima Herald: "Saturday Soapbox: Bring back passenger rail service to Central Washington"
May 23, 2019
North Kittitas County Tribune: "Insiders say 'This is BIG' Yakima Valley-Seattle Passenger Rail study financed"
December 18, 2018
KUOW: "A year later, passengers still seeking answers in deadly Amtrak crash"
November 7, 2018
Surrey Now-Leader: "U.S. passenger-train-stop enthusiasts turn north"
December 19, 2017
Rail Advocates Remember Zack Willhoite And Jim Hamre, Killed On Amtrak 501
September 26, 2017
Yakima Herald: "CWU researcher says there's interest in passenger trains in Yakima Valley"
August 25, 2017
Yakima Herald: "Want passenger rail in the Yakima Valley? Here's a chance to say so"
May 21, 2016
Yakima Herald: "Reviving the long-lost locomotive dream in Yakima"
December 16, 2015
The Northern Light: "Western students report on Blaine train stop"